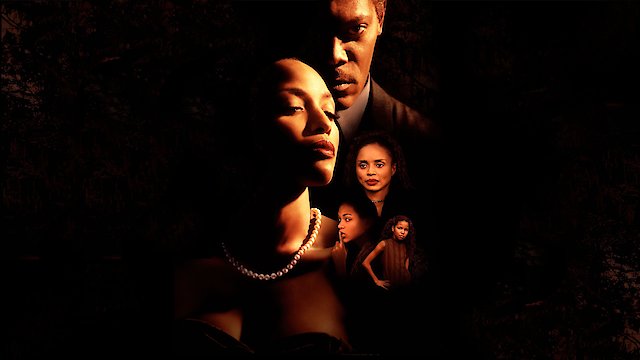 Where to Watch Eve's Bayou

Eve's Bayou is a 1997 American drama film directed by Kasi Lemmons, marking her feature-length directorial debut. This poignant and deeply stirring Southern Gothic tale set in a Southern Louisiana bayou stars Samuel L. Jackson, Jurnee Smollett, and Meagan Good. The narrative artfully revolves around the tumultuous lives of the Batiste family, their experiences interlaced with the rich atmosphere, the subtle hints of mysticism, and the intriguing examination of memory and perception. Arguably, one of the most compelling aspects of the film is Samuel L. Jackson's performance as Louis Batiste, a prominent and well-respected black southern doctor in the 1960s Louisiana. Jackson expertly crafts Louis' character: charming, charismatic, deeply flawed, sowing the seeds of familial discord through his compulsive philandering. Jackson's character, while critical to the plot, acts more as a pivot than the main centerpiece. The focus is more on the impact of his actions on his family, especially his young daughters. Jurnee Smollett-Bell shines in her first leading role as 10-year-old Eve Batiste, from whose perspective a majority of the story unfolds. Jurnee brings innocence and authenticity to her character that is both potent and empathetic. She is a witness to events her young mind struggles to comprehend fully and is forced to navigate the tumultuous waters of her family's discord. Her struggles to reconcile her admiration and love towards her father with the realities she is confronted with forms the emotional heart of the movie. Young Meagan Good delivers a stellar performance as Eve's older sister, Cisely Batiste. Cisely is a girl on the cusp of adolescence, trying desperately to hold on to her childhood innocence while fighting the compelling allure of the adult world symbolized by her father. She wrestles with the burgeoning awareness of sexuality, blurred boundaries, and the shifting dynamics with her father that these changes entail. Eve's Bayou is hauntingly intense with an underbelly of disquieting themes getting the viewer to confront the uncomfortable dynamics of a seemingly perfect family facade gradually being peeled away. The storytelling is powerful and layered, intertwining slices of life narrative with the swampy, mythical backdrop of Louisiana Bayou, teeming with voodoo undertones and supernatural implications. Debbi Morgan as Mozelle Batiste Delacroix, Eve's eccentric aunt, gives a startlingly emotive performance as a seemingly blessed and cursed woman who has tragically lost all her husbands yet can accurately foresee the future of others. Lynn Whitfield delivers a measured performance as Roz Batiste, the righteous mother who strives to keep her family together amid chaos. These characters provide a tapestry of powerful women figures that magnificently drive the narrative forward. In addition to stellar performances, the film also boasts impressive technical aspects. The cinematography by Amy Vincent is captivating, conjuring an unsettling yet enrapturing visual ambiance that serves as the perfect underpinning to a plot tinged with mysticism, betrayal, denial, and folklore. The movie is paced steadily, meticulously revealing its narrative layers, simmering tensions, and dedicated character development, urging the audience to delve deeper into the psyches of its characters. Composer Terence Blanchard's musical score is haunting and atmospheric, underscoring the captivating visual beauty and the poignant emotional moments. It complements the narrative progression, deepens the emotional reverberations, and amplifies the film's Southern Gothic thematic elements. "Eve's Bayou" is as atmospheric and evocative as it is a coming-of-age film. It is a powerful exploration of themes such as family relationships, unpalatable truths, innocence, deception, and the complex layers of human behavior. Brimming with allegorical and symbolic depth, the film brilliantly blurs the lines between memory and reality, superstition and rationality, innocence and discovery. It captivates viewers with its nuanced storytelling and unforgettable characters, creating a viewing experience that stays with you long after the credits roll.
Eve's Bayou is a Drama movie released in 1997. It has a runtime of 109 min.. Critics and viewers have rated it moderate reviews, with an IMDb score of 7.2. It also holds a MetaScore of 78.
How to Watch Eve's Bayou
Where can I stream Eve's Bayou movie online? Eve's Bayou is available to watch and stream, buy on demand, download at Hulu Plus, Amazon Prime, Apple TV Channels, Starz, The Roku Channel, Apple TV, Amazon, Google Play, YouTube VOD, Vudu. Some platforms allow you to rent Eve's Bayou for a limited time or purchase the movie for downloading.


Stars
Samuel L. Jackson, Lynn Whitfield, Debbi Morgan, Vondie Curtis-Hall, Branford Marsalis, Lisa Nicole Carson, Jurnee Smollett, Diahann Carroll, , Megan Good

Stream movies like Eve's Bayou
Also directed by Kasi Lemmons
Also starring Samuel L. Jackson