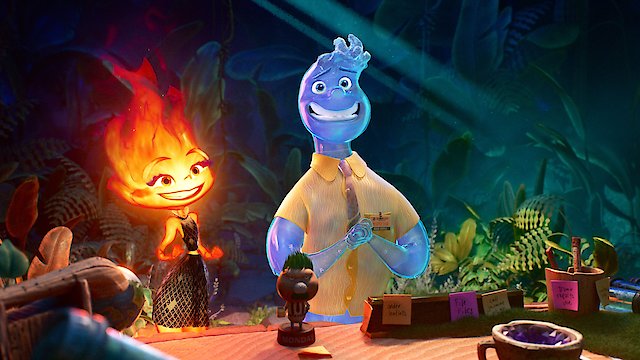 Where to Watch Elemental

Elemental is an animated film that takes place in a vivid fantasy world where people have the innate power to control the elements of nature. In this world, there are four distinct magical societies, each drawing their abilities from one of the elements - air, earth, fire, or water. Those born as fire mages can conjure flames and heat, earth mages control plants and stone, air mages command wind and weather, and water mages manipulate rivers, oceans, ice and more. The story follows Zeta, a headstrong teenage girl born with the rare gift to wield all four elements. But in a world of strict magical divisions, Zeta has struggled to fit in. When dangerous elemental forces begin threatening harmony between the societies, Zeta may be the only one capable of restoring balance. To save her world, she'll have to escape those trying to study her powers in a secret government program. She'll need to learn how to properly command all four elemental magics, with help from some newfound friends. And she'll have to find the courage to be the bridge between worlds when mistrust runs high. Along her journey, Zeta discovers mysteries surrounding her past and why she alone can balance all elements. As she gains control and insight, this underestimated hero steps up to bring people together and uncover secrets that transform how she sees herself and the world. This coming-of-age tale brims with themes of community, diversity, and the magic that happens when we embrace our differences. Set against a backdrop combining stunning natural vistas and sleek urban fantasy, it's filled with soaring action and spirited humor. Featuring the voice talents of young stars on the rise, Elemental promises breathtaking visuals, lovable characters, and blockbuster entertainment for audiences of all ages. The elements unite for an unforgettable animated adventure.
Elemental is a Animation, Comedy, Fantasy, Kids & Family, Romance movie released in 2023. It has a runtime of 93 min.. Critics and viewers have rated it moderate reviews, with an IMDb score of 7.0. It also holds a MetaScore of 58.
How to Watch Elemental
Where can I stream Elemental movie online? Elemental is available to watch and stream, buy on demand, download at Disney+, Apple TV, Amazon, Google Play, Vudu. Some platforms allow you to rent Elemental for a limited time or purchase the movie for downloading.


Stars
Wendi McLendon-Covey, Catherine O'Hara, Mamoudou Athie
Genres
Animation, Comedy, Fantasy, Kids & Family, Romance

Stream movies like Elemental
Also directed by Peter Sohn
Also starring Mamoudou Athie