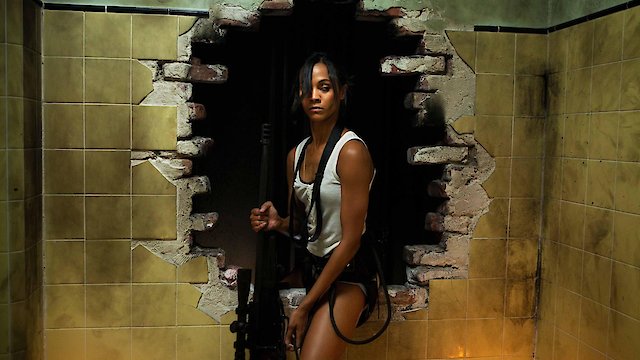 Where to Watch Colombiana

In the action-packed film Colombiana, released in 2011, director Olivier Megaton presents us with a highly compelling mixture of drama, action and suspense. Penned by Luc Besson and Robert Mark Kamen, the film offers an intricate and gripping narrative that pulls the audiences into a dark world of incarceration and vengeance. The film stars Zoe Saldana, Michael Vartan, and Callum Blue, each of whom deliver captivating performances in this intense action thriller. Zoe Saldana stellarly portrays the film's protagonist, Cataleya Restrepo. Cataleya, at a tender age, survives a devastating tragedy which destroys her idyllic childhood in Bogota, Colombia, and forever changes the course of her life. Her parents, who are involved in the criminal underworld, fall victim to a ruthless mob boss' cruelty. This event sets in motion Cataleya's deeply rooted desire to seek retribution. She promises herself that she will track down the one responsible for this brutal act and make them pay. After barely escaping the bloodshed in Colombia, a young Cataleya finds her way to the United States where she is taken in by her uncle, played by Cliff Curtis. He, being aware of the family business, understands Cataleya's yearning for revenge and trains her to be an assassin. Saldana's performance of Cataleya convincingly weaves together the resultant dichotomy of fierce and lethal assassin with a woman who is profoundly marked by childhood trauma. Michael Vartan takes on the role of Danny Delanay, an artist who becomes unintentionally tangled in Cataleya's complex life. Vartan offers an excellent contrast to Cataleya's hardened personality with his portrayal of a compassionate and caring love interest. Unaware of the depth of Cataleya's dangerous line of work, Danny is a symbol of normalcy and calm in her troubled existence. Amidst all the violence and revenge, Callum Blue plays FBI Agent James Ross. He is determined to put an end to the chain of mysterious assassinations that have stumped the law enforcement agencies, not knowing that it is all part of Cataleya's meticulous plan to avenge her parents. Set in an environment steeped in crime and revenge infused with heart-pounding action sequences, Colombiana leverages all the ingredients of an engaging action thriller. The film's cinematography, under the skilled guidance of Director of Photography Romain Lacourbas, is instrumental in creating a visual contrast between the tangible darkness of the criminal world and the striking brightness of Cataleya's few moments of tranquillity and happiness. The film also leverages various locations, including Mexico and the United States, contributing to the global scale of Cataleya's quest. Colombiana brilliantly captures the complex path of vengeance that Cataleya treads. The film delivers an emotional depth that showcases her struggle with personal loss and her transformation into a ruthless executor of justice. Saldana, known for her roles in films like Guardians of the Galaxy and Avatar, gives an indomitable performance and shows her range in this nail-biting feature. Her portrayal of Cataleya is a testament to her versatility as an actress, effortlessly oscillating between the fragile, damaged persona to the fierceness of an assassin. The film is underscored by a captivating soundtrack that gives an auditory texture to the film's dynamic narrative. This, combined with the rich visuals and strong performances, provides the movie's backbone and creates an immersive viewing experience. What Colombiana does excellently is the bold intertwining of emotional depth with action, crime, and suspense. This compelling hybrid not only keeps the viewers on the edge of their seats but also draws them closer to the characters, constructing a potent connection that lasts well beyond the movie's runtime. Colombiana constructs a thrilling tale of vengeance, creating an intense roller-coaster ride filled with dramatic moments that are both shocking and emotion-stirring. Simultaneously, it doesn't shy away from shedding light into the softer, emotionally bruised corners of Cataleya's life, thus creating a fascinating character study dipped in an action narrative.
Colombiana is a Action, Thriller, Crime, Drama movie released in 2011. It has a runtime of 108 min.. Critics and viewers have rated it moderate reviews, with an IMDb score of 6.4. It also holds a MetaScore of 45.
How to Watch Colombiana
Where can I stream Colombiana movie online? Colombiana is available to watch and stream, buy on demand, download at Amazon Prime, Netflix, Apple TV, Amazon, Google Play, YouTube VOD, Vudu. Some platforms allow you to rent Colombiana for a limited time or purchase the movie for downloading.


Stars
Zoe Saldana, Michael Vartan , Callum Blue
Genres
Action, Thriller, Crime, Drama

Stream movies like Colombiana
Watch movies on Apple TV+
Also directed by Olivier Megaton
Also starring Zoe Saldana
Also starring Michael Vartan