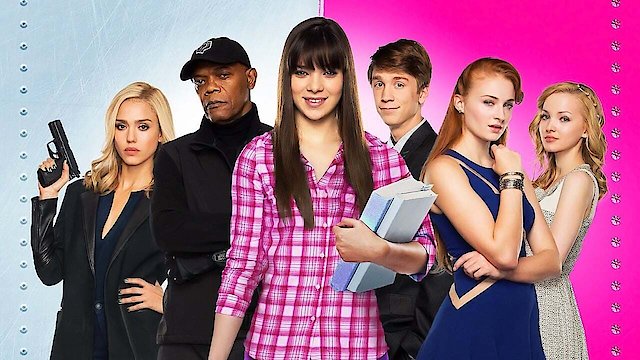 Where to Watch Barely Lethal

Barely Lethal, released in 2015, is an action-comedy that packs a good punch of humor and entertainment. This film is directed by Kyle Newman and has a star-studded cast including Jaime King, Samuel L. Jackson, and Madeleine Stack. In Barely Lethal, a subtle mix of high school drama and high-stakes espionage come together to create a fun, light-hearted action flick that's pleasing for a wide range of audience. The story centers on the experiences and transformation of a teenager named Megan Walsh, played by Hailee Steinfeld, who leads a life that's anything but ordinary. Raised at a boarding school that trains children to become international secret agents, Megan's life is filled with more combat tactics and covert operations than textbooks and teen drama. Samuel L. Jackson plays Hardman, the ruthless trainer at Megan's academy who expects nothing less than perfection from his young trainees. On the other hand, Jaime King wonderfully portrays the role of Analyst Knight, a mentor-like figure to these young trainees, offering guidance and support amidst their rigorous lives. The dynamic environment at the academy, marked by the contrasting characters of the harsh Hardman and sympathetic Knight, becomes the backdrop for the unfolding of Megan's unique journey. Despite her extraordinary abilities in espionage, Megan, like any other teenager, longs for a regular life. Her world changes when she fakes her death during an operation and starts a new life in a typical American suburb as a foreign exchange student. This is where the movie transition from heavy action to comedy and typical high school drama. The subtle shift brings warmth and humor as Megan struggles to catch up with the ordinary world she's never been a part of, coping with high school dilemmas while maintaining her undercover secret agent life. Madeleine Stack takes on the role of Donna, Megan's high spirited host sister. Their chemistry is seamless on-screen, and their dynamic relationship becomes a pivot around which a majority of the high school drama unfolds. On one side, Megan is dealing with the drama of high school—navigating teachers, homework, boys, and the mean girl, Heather (played by Sophie Turner). On the other side, she's trying to keep her past life hidden, dealing with lingering threats from her former world of international espionage. However, Barely Lethal isn't just high school drama and laughs; it's also filled with enough action sequences to feed the appetite of action lovers. Every so often, the perils of Megan's former life infiltrate her high school existence, leading to intense and gripping sequences that will keep viewers on the edge of their seats. Director Kyle Newman successfully merges the worlds of teen comedy-drama and action, delivering an entertaining mix of laughs, thrills, and heart. The film's chipper, youthful energy is amplified by Hailee Steinfeld's strong performance as Megan. Entrancing, and humorous, her on-screen persona embodies teenage angst and spy-like coolness with perfect balance. Her talent is complemented by Samuel L. Jackson's and Jaime King's exceptional performances. Both bring credibility to the otherwise light-hearted plot, grounding it with their strong characters. Barely Lethal also has strong female characters that drive the narrative forward. The empowerment and display of several strong-willed female characters add another dimension to the film, making it an engaging and empowering watch. The soundtrack enhances the movie, reflecting the teen-spirit of the high school scenes and the tense, action-oriented suspense in others. Stunning cinematography and special effects make the action scenes gripping and entertaining. Overall, Barely Lethal is an enjoyable blend of action, comedy, and high school drama. This film manages to provide both light-hearted laughs and gripping action sequences, making it a unique addition to the teen movie genre. Its contrasting elements work harmoniously, and the result is a fun and entertaining movie that appeals to a wide range of audiences. A perfect pick for a chilled-out movie night.
Barely Lethal is a Adventure, Comedy, Action, Romance movie released in 2015. It has a runtime of 99. Critics and viewers have rated it moderate reviews, with an IMDb score of 5.4. It also holds a MetaScore of 44.
How to Watch Barely Lethal
Where can I stream Barely Lethal movie online? Barely Lethal is available to watch and stream, buy on demand, download at Hulu Plus, Amazon Prime, The Roku Channel, Kanopy, Apple TV, FlixFling VOD, Amazon, Google Play, YouTube VOD, Vudu. Some platforms allow you to rent Barely Lethal for a limited time or purchase the movie for downloading.


Stars
Hailee Steinfeld, Jessica Alba, Sophie Turner, Jaime Murray, Dove Cameron, Samuel L. Jackson, Thomas Mann
Genres
Adventure, Comedy, Action, Romance

Stream movies like Barely Lethal
Watch movies on Apple TV+
Also directed by Kyle Newman
Also starring Samuel L. Jackson