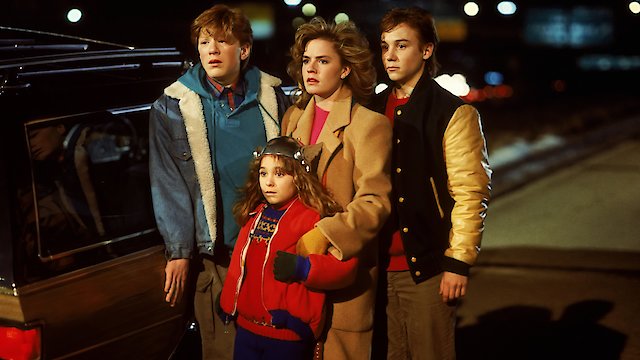 Adventures in Babysitting

Where to Watch Adventures in Babysitting

Adventures in Babysitting, released in 1987, was a standout movie of the eighties, which successfully blended comedy, adventure, and teen drama genres into a fun-filled and thoroughly enjoyable experience. This classic movie starred young Elisabeth Shue in the leading role with a charming ensemble cast of Maia Brewton and Keith Coogan. Directed by Chris Columbus, who later went on to direct the first two Harry Potter movies, this film provided a wild and entertaining ride through a night of extreme babysitting. Elisabeth Shue plays Chris Parker, a typical suburban teenager who's just been stood up by her boyfriend for their anniversary dinner. Not letting this get her down, Chris agrees to spend her free evening babysitting the Anderson kids: the 15-year-old Brad, the precocious Sara, and Brad's best friend Darryl who has a habit of sticking his nose in where it doesn't belong. Through a series of tumultuous and often hilarious events, their quiet suburban evening takes a drastic turn, spiraling into a wild night in downtown Chicago. The plot kicks off when the children's parents leave for a party and Chris receives a call from her panicked friend Brenda, who is stuck at a dingy bus station in the middle of the city. Deciding it's her responsibility to help her friend, Chris piles the kids into the family station wagon to embark on what was supposed to be a quick and painless journey. Little do they know, they're headed for a night they'll never forget. Once they hit the city, the group encounters an array of kooky and comical characters, as well as absurd and unexpected situations. What was meant to be a simple rescue mission turns into an expansive trek across the city involving car thieves, mobsters, and singing the blues in a jazz club. Each situation is more outrageous than the last, giving viewers an energetic and high-stakes adventure, and Chris and the kids more headaches than they can handle. Throughout the frenzied situations, Chris maintains her role not just as an accidental adventurer but also as a responsible caregiver. Cinematically, the film operates on the precipice of reality, blending normal babysitting frustrations with outrageous comic escapades, creating an adventure story that harkens back to the fast-paced, all-in-one-night movies of Hollywood's yesteryears. Elisabeth Shue brings a mixture of charm and youthful enthusiasm to her role as Chris, a down-to-earth heroine who's easy to root for. Meanwhile, Keith Coogan and Maia Brewton offer strong support as her young charges experiencing city life for the first time, each dealing with their own individual set of problems. Adventures in Babysitting is characterized by its brilliant script laced with slapstick humor as well as dramatic and emotional moments which add depth to its characters. The expert storytelling by screenplay writer David Simkins is complemented by the visually engaging direction of Chris Columbus. The film delivers plenty of laughs and suspense, making full use of its unique premise. The film isn't just about the mishaps and comedy. It also gives us a glimpse into the transition from adolescence to adulthood, offering a chance to see our protagonists grow and evolve within the duration of their night out. The characters confront their fears and prejudices, interspersed with courage, quick thinking, and instances of surprising maturity. Undeniably entertaining, Adventures in Babysitting is packed with jokes, memorable lines, and eccentric situations, all set to a vibrant '80s soundtrack. The movie has remained a potent symbol of the 1980s culture and is remembered as a classic romp through teenage life the culminates in a spectacular night of comedic chaos. Overall, Adventures in Babysitting is a light-hearted, high-energy comedy enriched by an engaging plot, lovable characters, and memorable moments. It's packed full of '80s charm and stands the test of time as one of the seminal adventure-comedies of its decade.
Adventures in Babysitting is a Comedy movie released in 1987. It has a runtime of 102 min.. Critics and viewers have rated it moderate reviews, with an IMDb score of 6.9. It also holds a MetaScore of 45.
How to Watch Adventures in Babysitting
Where can I stream Adventures in Babysitting movie online? Adventures in Babysitting is available to watch and stream, buy on demand, download at Disney+, Apple TV, Amazon, Google Play, Vudu. Some platforms allow you to rent Adventures in Babysitting for a limited time or purchase the movie for downloading.


Stars
Elisabeth Shue, Keith Coogan, Maia Brewton, Anthony Rapp

Stream movies like Adventures in Babysitting
Also directed by Chris Columbus
Also starring Elisabeth Shue
Watch movies on Apple TV+