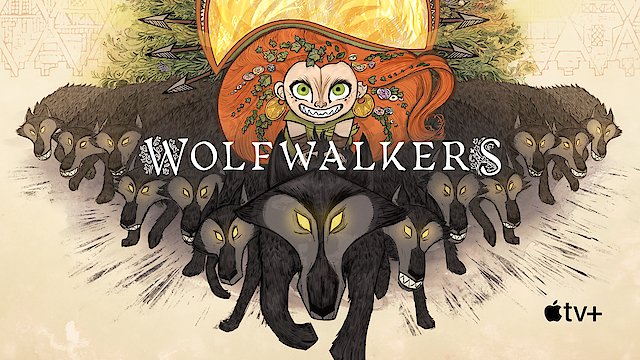 Where to Watch Wolfwalkers

Wolfwalkers (2020) is an enchanting animated film that masterfully combines folklore, fantasy, and a dash of historical drama. Produced by Cartoon Saloon, an Irish animation studio acclaimed for its visually distinct and innovative productions and directed by the creative duo, Tomm Moore and Ross Stewart, Wolfwalkers provides a stirring, visually sumptuous experience, sure to captivate audiences of all ages. The film unfolds in the vibrant city of Kilkenny, Ireland, set amidst the turbulent period of English rule in the 17th century. This craftsmanship of animation transcribes a vivid version of the city, encumbered by the era's oppressive norms, under the shadow of stern English rule. The principal character is Robyn Goodfellowe, a young and spirited girl voiced by Honor Kneafsey. Robyn arrives in Kilkenny with her father, Bill Goodfellowe (voiced by Sean Bean), who is a skilled hunter appointed by the town's despotic ruler, the Lord Protector (also understood as Oliver Cromwell) to exterminate the area's supposedly dangerous and wild wolf pack. An aspirational hunter herself, Robyn often finds herself at odds with societal expectations, bound by the shackles of her gender and age. However, an unexpected encounter in the forbidden woods surrounding the city introduces Robyn to a wild, magical world she could hardly have dreamed of, embodied in a fiery and independent native girl named Mebh. Mebh, voiced by Eva Whittaker, belongs to a legendary tribe of shape-shifters known as the Wolfwalkers. They are beings who acquire a lupine form and traverse the forest while their human bodies are asleep. Whether they are creatures of the forest, guardians of nature, or the root of the city's fears largely depends on who is interpreting their existence. A significant part of Wolfwalkers' charm emanates from the beautifully sketched friendship between Robyn and Mebh, two fearless young girls defying the world against them. The spirited dynamic between the two gradually unfurls as they explore the captivating wilderness, populated by the mesmerizing animals and scenery that act as the movie's backdrop. The narrative develops with a poignant emotional resonance that speaks to both children and adults, tackling themes of friendship, freedom, and the clash between civilization and nature. Simultaneously, it explores the oppression of societies under dictatorship, evident in the figure of the Lord Protector who seeks to stifle the unpredictable wilderness, both inside the city walls and within its inhabitants. Visually, Wolfwalkers is stunning. Cartoon Saloon is renowned for its unique animation style that incorporates intricacy and simplicity in its depiction of characters, emphasizing their expressions and emotions. The careful detail that goes into the Irish landscapes— the verdant wilderness, enclosing city walls, and the bustling settlement within— deems every frame a standalone work of art. The clever use of color also plays a significant role in orchestrating the story's mood and theme. The city is portrayed in browns and grays of imposed orderliness, while the forest explodes in a cacophony of colors, a testament to its unapologetic wildness. As Robyn navigates between these two worlds, audiences will observe the staggering contrast, further highlighting the tension. Wolfwalkers also deserves applause for its subtle narrative cues, enriched by the traditional Irish folklore it weaves into its narrative. The soundtrack, evocative of the film's raw and naturalistic demeanor, invokes a deep connection with Irish culture, helping viewers sink deeper into this fantastical world. Supplemented with strong vocal performances by the lead cast, honor Kneafsey and Eva Whittaker notably bring Robyn and Mebh to life. Sean Bean, as Robyn's protective yet conflicted father, also adds a layer of depth to his character, rendering his struggles tangible to the audience. In summary, Wolfwalkers is an artfully crafted film that depicts a story of resistance and friendship, set against a backdrop of sociopolitical unrest. Its breathtaking visual style blended with meaningfully crafted characters and an exploration of a broad spectrum of themes make for a truly compelling watch. It is an ethereal journey into the realms of folklore, bridging the divide between the real and the magical, where one can't help but get lost in its enchanting narrative.
Wolfwalkers is a Adventure, Animation, Fantasy, Kids & Family movie released in 2020. It has a runtime of 102 min.. Critics and viewers have rated it mostly positive reviews, with an IMDb score of 8.0. It also holds a MetaScore of 87.
How to Watch Wolfwalkers
Where can I stream Wolfwalkers movie online? Wolfwalkers is available to watch and stream at Apple TV+.


Director
Tomm Moore, Ross Stewart
Stars
Honor Kneafsey, Eva Whittaker, Sean Bean
Genres
Adventure, Animation, Fantasy, Kids & Family

Stream movies like Wolfwalkers
Watch movies on Apple TV+