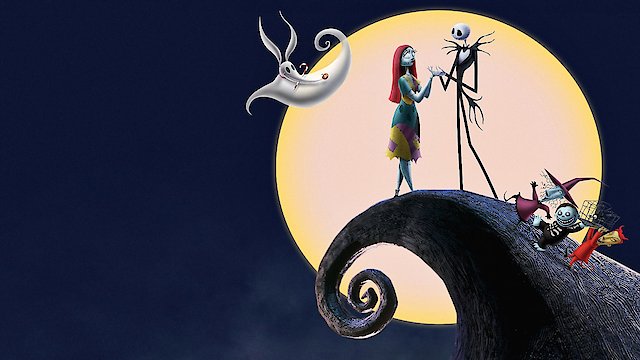 The Nightmare Before Christmas

Where to Watch The Nightmare Before Christmas

The Nightmare Before Christmas is a beloved animated feature film that seamlessly blends elements of gothic fantasy, musical, and holiday film genres. Released in 1993, this whimsical masterpiece is directed by Henry Selick and is produced and conceived by the imaginitive, offbeat mind of Tim Burton. A pioneer of stop-motion animation, the film's style and substance remain widely celebrated. It features the voice talents of Danny Elfman, Chris Sarandon, and Catherine O'Hara, who bring to life the eccentric inhabitants of Halloween Town and Christmas Town. The film follows the narrative of Jack Skellington, the revered Pumpkin King of Halloween Town, masterfully voiced by Danny Elfman in the musical sequences and Chris Sarandon in the speaking segments. Jack, though respected, feels disenchanted with the cyclical lifestyle of constant spookiness and repetitive eerie celebrations of Halloween Town. His world is quite literally turned upside down when he stumbles upon Christmas Town, a place of cheerfulness illuminated with vibrant lights and joyous songs swirling in the wintery air. Spellbound by the joy and mysticism of this unusual holiday spirit, Jack decides to bring this newfound holiday cheer back into his gloomy existence. Jack's sincere yet naive decision to recreate Christmas in Halloween Town leads to a series of bizarre, and occasionally sinister, twists and turns. Among the memorable characters in this hauntingly delightful tale is Sally, a rag doll woman torn between her protective creator, Dr. Finkelstein, and her yearning for personal freedom and emotional connection. Voiced by Catherine O'Hara, Sally's character represents an endearing mash-up of melancholy and hope, as well as a beacon of wisdom and cautionary foresight. The undeniable bond and tenderness between Jack and Sally add a layer of sentimentality to the darkly whimsical narrative. What sets The Nightmare Before Christmas apart is its exploration of dualities. It contrasts the eerie, ghoulish imagery of Halloween Town with the warm, glittering allure of Christmas Town. It juxtaposes Jack's melancholy with his wistful aspiration for something more fulfilling. Moreover, it manifests the dichotomy of fear and cheer, pranks and presents, screams and songs. The production of The Nightmare Before Christmas is as exceptional as the narrative itself. Using an intricate process of stop-motion animation, the filmmakers breathe life into the Halloween Town and its quirky inhabitants. The vibrant yet spookish character designs and the imaginative set pieces are complemented by the detailed texture work, which adds depth to the visuals. The movie is peppered with catchy, poignant songs, composed by Danny Elfman, which serve not only as an entertaining backdrop to the story but also as a way of progressing the narrative. Songs like "This Is Halloween" and "What's This?" are as evocative as they are memorable. Meanwhile, Christopher Lee's engaging narration ties the whole package together, creating an enchanting storytelling experience. The Nightmare Before Christmas is a cinematic treasure distinguished by its unique aesthetic, charming characters, and thought-provoking themes. It serves as a reminder that happiness isn't always found in the unfamiliar or exotic; sometimes, it lies within one's own 'world'. It's a movie that transcends the age bar, appealing to both children and adults with its blend of imaginative visuals, heartwarming narrative, and timeless lessons. A film that is watched and re-watched year after year, The Nightmare Before Christmas is as enduring as the holidays it characterizes. In conclusion, The Nightmare Before Christmas is a film that dares to blend the macabre with the magical, crafting a timeless tale of self-discovery and appreciation for one's uniqueness. Esteemed for its artistic brilliance, mesmerizing music, and unforgettable characters, it isn't just a movie - it's a holiday tradition that encourages audiences to embrace their 'inner pumpkin king' and find contentment in who they are. The Nightmare Before Christmas is not just a film, but a world of wonder and spookiness, ultimately reminding us to embrace our peculiarities and find pleasure in who we are and what we have.
The Nightmare Before Christmas is a Fantasy, Animation, Kids & Family movie released in 1993. It has a runtime of 75 minutes. Critics and viewers have rated it moderate reviews, with an IMDb score of 7.9. It also holds a MetaScore of 82.
How to Watch The Nightmare Before Christmas
Where can I stream The Nightmare Before Christmas movie online? The Nightmare Before Christmas is available to watch and stream, buy on demand, download at Disney+, Apple TV, Amazon, Google Play, Vudu. Some platforms allow you to rent The Nightmare Before Christmas for a limited time or purchase the movie for downloading.


Stars
Danny Elfman, Chris Sarandon, Catherine O'Hara, William Hickey, Glenn Shadix, Ken Page
Genres
Fantasy, Animation, Kids & Family

Watch movies on Apple TV+
Also starring Chris Sarandon