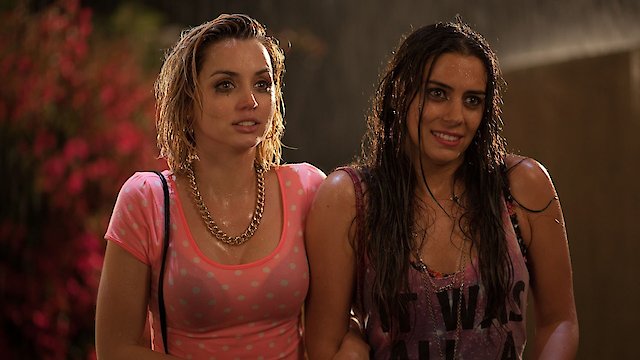 Where to Watch Knock Knock

The movie Knock Knock is a psychological thriller that was released in 2015, masterfully high-streamed by the ever-adored actor, Keanu Reeves. The movie takes the audience on a roller coaster ride of suspense and intrigue, artfully directed by Eli Roth, and brought to life by a brilliantly assembled cast including Reeves, Lorenza Izzo and Ana de Armas. This thriller encapsulates aspects of suspense, seduction, deceit, and psychological manipulation into an intensely captivating cinematic narrative. Knock Knock begins with the subtle, inviting ambiance of a classic home invasion story, but brilliantly transcends into an unanticipated territory, making it an exciting watch for thriller enthusiasts. The plot centres on the seemingly tranquil life of Reeves' character, Evan Webber, a successful architect who lives in a posh, secluded house with his artist wife and their two kids. This serene domesticity takes a turn into the erratic when Evan is left home all alone for the weekend, and two seemingly innocent girls show up at his door in the middle of a rainy night. Knock Knock exploits this setting to the hilt and drives the narrative in a sinister direction. Keanu Reeves, celebrated for his roles in action franchises, spruces this movie with a distinct flair of his acting prowess. In Knock Knock, he steps away from his usual action-hero persona and dons a completely different character. His fine-performing ability in this claustrophobic atmosphere should by no means be overlooked, rather it deserves the utmost appraisal. Evan rings true as a family man, warm-hearted, somewhat naive, but is he too hospitable? Reeves secures a perfect balance to portray Evan's agonizing despair and his stoic helplessness, thus invoking audience sympathy and an insistence for the climax to deliver justice. Complementing Reeves, Lorenza Izzo and Ana de Armas, playing the role of Genesis and Bel, respectively, deliver powerhouse performances. Their transformation from drenched, helpless damsels-in-distress to manipulative and psychotic aggressors is eerily impressive. Their layered performance paves way for suspense at numerous junctures and sets an unnerving tone for the entire film. Their characters are cleverly written to galvanize fear and pity, while keeping acutely in line with the movie's central theme. Izzo and Armas exude a powerful yet incredibly disturbing screen presence that serves as the pivotal vehicle for the storyline's progression. The narrative arc seamlessly blends elements of dread, deceit, temptation, and suspense. Throughout the film, the atmosphere is laced with palpable tension that pent up to a heightened crescendo. Cinematographically, Knock Knock uses subtle elements to convey a sense of foreboding. The isolated house and the continuous rain outside create a setting meant to induce anxiety and amplifies the uncertainty of the unfolding events. The tension built in interior shots is unrelenting and stays till the end of the runtime. Although this film delves into the darker realms of psychological terror, it also effectively addresses and sparks conversations about infidelity, manipulation, and consequence. As terror breeds in the plot, the film also tends to question moral norms and boundaries, escalating the plot's complexity. Eli Roth's direction adds a signature touch to the film. Using his familiar tropes, Roth manages to create a piece of work filled with nail-biting suspense, punctuating throughout with bursts of chaotic encounters. The screenplay of Knock Knock, complemented by the director's treatment, caters to backdrop unveiling, character transformation, and story progression. In conclusion, Knock Knock serves as a compelling cocktail of psychological terror and riveting suspense. It takes you to the edge of your seat, playing cleverly on your expectations and drawing your intrigue with every passing scene. Reeves' performance is a striking contrast to his traditional roles, and it truly shines amidst the competent cast of Lorenza Izzo and Ana de Armas. This captivating narrative will leave you questioning the limits of coming face-to-face with the unintended consequences of seemingly innocent actions. Do not overlook this movie thinking it's just another home invasion flick. It is a complete surprise, delivering more twists than you could anticipate and serving suspense in abundant doses.
Knock Knock is a Drama, Thriller, Horror movie released in 2015. It has a runtime of 99 min.. Critics and viewers have rated it mostly poor reviews, with an IMDb score of 4.9. It also holds a MetaScore of 53.
How to Watch Knock Knock
Where can I stream Knock Knock movie online? Knock Knock is available to watch and stream, buy on demand, download at Hulu Plus, Max, Amazon Prime, Peacock Premium, The Roku Channel Free, The Roku Channel, Apple TV, Amazon, Google Play, YouTube VOD, Vudu. Some platforms allow you to rent Knock Knock for a limited time or purchase the movie for downloading.


Stars
Keanu Reeves, Lorenza Izzo, Ana de Armas
Genres
Drama, Thriller, Horror

Stream movies like Knock Knock
Also directed by Eli Roth
Also starring Keanu Reeves
Also starring Lorenza Izzo