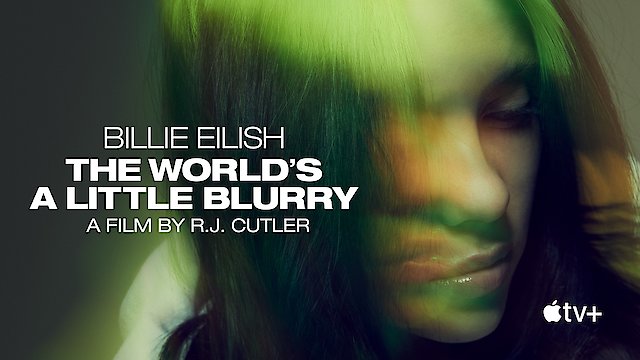 Billie Eilish: The World's a Little Blurry

Where to Watch Billie Eilish: The World's a Little Blurry

Billie Eilish: The World's a Little Blurry is a 2021 American documentary film, directed by R.J. Cutler. It revolves around the life, career, and meteoric rise of out-of-the-box pop sensation, Billie Eilish. The film offers an intimate, deeply personal revelation into her journey, both as an everyday teenager and a top-notched dream-chaser artist. The central figures in the documentary are Billie Eilish herself, her elder brother Finneas O'Connell, and her mother Maggie Baird. All of them serve as the cogs and wheels that power the creativity and unique musical masterpieces that have propelled Eilish's rise to stardom. The docu-film hones in on their synergy, individual energy and the dynamics of their family environment. Billie Eilish: The World's a Little Blurry provides a comprehensive overview of an extraordinary period in the life of this young artist. Eilish's journey from her early beginnings to becoming one of the most exciting and contemporary voices in today's music industry is covered with an unparalleled candor, providing the viewers with an unfiltered peek into her life. Director R.J. Cutler masterfully crafts a narrative that transcends the usual 'behind-the-scenes' tropes, delivering a raw, engaging, and often heartfelt expedition into Eilish's existence. This film offers its audience valuably private backstage moments and profound insights into the creative process behind Billie Eilish's music. It presents the unique symbiotic and personal relationship between Eilish and her brother Finneas. Viewers get to witness the unique alchemy behind their riveting music, their songwriting process, and how their individual sparks come together to ignite the phenomenal creation that is Billie Eilish's music. The documentary also skillfully carries forth its narrative by showcasing the intricacies and nuances of the artist's life, juggling between the creative process, the never-ending cycle of global tours, meet-and-greets, and the high pressured, relentless life under the microscope of fame. Yet, the film does not shy away from the hardships and challenges Billie Eilish has faced in her young life. It presents the strains on her physical and mental health, the anxieties, the self-doubt and her incessant struggle and defiance to remain grounded in the face of overwhelming fame. It portrays Eilish as a teenager dealing with the familiarities of adolescence, albeit under the unforgiving scrutiny of the public eye. Moreover, this film narrates about the unique kind of fame that Billie Eilish personifies- a fame born in the era of social media, where her fans know her through her music, her interviews, her Instagram feed, and her candid camera monologues. It explores how this social media fame impacts an artist in the most fundamental manner. Juxtaposing the glamorous stage lights with the intimate, heartfelt moments in her personal life, this documentary offers a rich, layered perspective into Billie Eilish's life. Viewers witness her on-road and off-road, on dazzling stage performances, during nerve-wracking Grammy awards, and intimate family dinners at home. Adding a unique edge to this documentary film is the contrast between Billie's steely determination, hard work, creativity, and the somewhat harsh realities of the music industry and fame. It adds depth, dimension, and authenticity to the film while showcasing the undeniable fact that the road to success is paved with determination and hard work. With a runtime of 140 minutes, Billie Eilish: The World's a Little Blurry offers a profound journey into an artist's life behind the fame. Rather than offering sensationalized aspects of a young superstar's life, R.J. Cutler solidly focuses on Billie's inner world, her musical prowess, her relationship with her family and the fans, and her struggles – an attempt to humanize the icon that she has become. Billie Eilish: The World's a Little Blurry is a heartwarming, captivating, and emotionally candid film that offers an unfiltered and uniquely intimate view into the life of this immensely talented young artist. It is a discerning portrait of a teenager living an extraordinary life, skillfully balanced with her determination and vulnerability, fame and loneliness, public scrutiny and personal solitude, delivered in an exquisite narrative that is as addictive as the artist's music.
Billie Eilish: The World's a Little Blurry is a Documentary, Music movie released in 2021. It has a runtime of . Critics and viewers have rated it moderate reviews, with an IMDb score of 7.7. It also holds a MetaScore of 70.
How to Watch Billie Eilish: The World's a Little Blurry
Where can I stream Billie Eilish: The World's a Little Blurry movie online? Billie Eilish: The World's a Little Blurry is available to watch and stream at Apple TV+.


Stars
Billie Eilish, Finneas O'Connell

Stream movies like Billie Eilish: The World's a Little Blurry
Also directed by R.J. Cutler
Watch movies on Apple TV+